---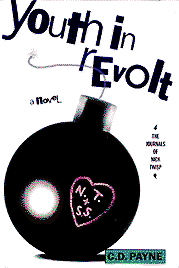 Youth in Revolt: The Journals of Nick Twisp

C.D. Payne
In Press
Taking a deliberate step out of the thematic morass of gen-x angst that American literature has been wading in lately, Youth in Revolt seeks out a more realistic wellspring for twenty-something malaise: our inability to get laid in high school. Nick Twisp, the protagonist, is the precocious 14-year-old with a literary background a 30-year-old post-doctorate student could only dream of. While that premise might set off your Doogie Howser alarm, the book is far from a simple-minded sit-com, and is easily as toxic to developing minds as Catcher in the Rye or Portnoy's Complaint pretend to be.

Twisp's confidence is heightened when he meets Sheeni Saunders, the 14- year-old object of his panty fancy who reassuringly grabs his crotch every now and then. Guided by her tender hand, he is coaxed into becoming the teenager we all wish we once were: bold, daring, diabolical, and conceited beyond the bounds of medical science and fashion. The book attacks the social mores attached to being a pubescent nerd in '90s America with a fervor unwitnessed since Johnny Rotten slobbered on his Sex Pistols' microphone. Youth in Revolt allows you nerds of the world a chance to relive the agony of high school all over again; only this time, you'll actually enjoy your painful tenure.
---
Biografi
Lloyd Jones
Harcourt Brace & Company
Hot on the trail of a contemporary "Prince and the Pauper" scoop, storyhound Lloyd Jones sniffs the crotch of the tourism wasteland that is Albania and Albania's last emperor, Enver Hoxha. Revered by his people as both a patriarchal deity and a feared dictator, Hoxha attempts to increase his visibility in the public awareness by recruiting a lookalike dentist to represent him at official public gatherings. In an effort to dispel rumors and Superglue loose lips, Hoxha executes the dentist's family and places him under constant supervision. Years after Hoxha's death, Jones ventured to New Zealand in 1991 hoping to validate rumors that the dentist was still alive. Although plotwise, Biografi is reminiscent of B-grade flicks rip-offs such as Moon over Parador or Dave, it offers a fascinating and frightening portrait of a country long abandoned by both Eastern Bloc communism and Western trade. Along the road to literary mediocrity, Jones encounters a continuum of Albanians, from the emperor's daughter to Albania's ravished prison camp patrons, all striving to share their life stories or "biografis" with Jones. The reader's interest lies in the life and death issues relayed by those Jones' encounters, and the readers inherent fascination with Albanian suffering is Biografi's one saving grace.
---
Previous Book Sums