---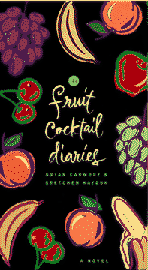 The Fruit Cocktail Diaries

Brian Carmody & Gretchen Hayduk
St. Martin's Press
Oh God and baby Jesus, when will it finally end? Yet another cheap capitalization on the media's packaging of generation-x, The Fruit Cocktail Diaries reeks like a roadside possum. The authors even stoop as far as having the novel printed on paper that looks like lined notebook pages. How postmodern! How gen-x!
The story itself is no more compelling than an ABC Afterschool Special and features two, one-dimensional New York kids who alternately write on the pages of their journals as they wend their way through this crazy mixed-up world. Their mundane lives eventually cross paths, and the reader learns that contemporary young people are intelligent, but just a little confused and overwhelmed.
Fruit Cocktail Diaries proves itself to be nothing more than another sleepy attempt at making the pointless lives of everyday, educated brats seem significant, and it has little to offer aside from a sorority-full of simple thoughts on contemporary social issues. Though a couple of good giggles decorate this literary cheesecake, it's all been done before, and it's been done better. And that ain't sayin' much.
---
Reckless Driver
Lisa Vice
Dutton
A book that the whole dysfunctional family can enjoy, Lisa Vice's debut novel, Reckless Driver, turns a cynical eye to traditional family values. Told from the perspective of an overly inquisitive 7-year-old, the book shuttles readers back to central Indiana, to a world where the façade of family perfection was cracked through by the closeted frustrations of those who couldn't fit into the mold of June Cleaver's little Beaver.
Lana, the main character, flips through page after page of chilling snapshots from her family album, including her being repeatedly raped by her father, his evolving schizophrenia, and her mother's recurring "Mommy Dearest" episodes. Lana's sister, who emulates her mother's attitude, wins the "spookiest sister" award by frequently asking Lana to join her in a lighthearted game of "how would we most like to see father die."
Though the fifties family has already been maligned to the point of cliché, Reckless Driver exhumes the dark underpinnings of this family in what is still a disturbingly poignant manner. And even if this is her debut novel, Vice's style showcases the work of an accomplished writer.
---
The Standoff
Chuck Hogan
Doubleday (to be released in April)
In August of 1992, Randall Weaver lost his last remaining loose screw and sealed himself and his family in his Northern Idaho cabin-about 30 miles from the Canadian border-after receiving a warrant for his arrest for failing to appear in court on a gun charge. Armed with a small arsenal that included the standard street variety of assault rifles, Weaver held off a battalion of feds in a two-day skirmish that lead to the deaths of a deputy marshal and Weaver's wife and 14-year-old son.
An adaptation of Weaver's story, The Standoff frames this rebellion in a fictionalized account of a man and his guns. The story, told from the perspective of an intelligent but washed-out FBI hostage negotiator, probably inadvertently raises several intriguing ethical questions-among them, what are the reasonable limits of freedom, what really drove Weaver's character to haul his family into the wilderness, and do we really need another John Grisham to litter the book bins. The characters here are flat and their responses to situations utterly predictable, making this is the perfect book to recycle as a Christmas present for next year.
---
Previous Book Sums