---
Listening Party Special Report:
---
CD Reviews

To Bring You My Love
PJ Harvey
Island
Polly Jean still screeches and moans like a sow giving birth, though she's never sounded so desperate and spiritually constipated. This is strong stuff. With each song, PJ flashes a lighter in another dark corner of her soul. Crank it in your room and your roommates might think you actually have a girlie over.
--Brian Bruxvoort
---

Commemoration
Charles Manson
White Devil Records
and

All That May Do My Rhyme
Roxy Erickson
Trance
Two sixties legends, their musical careers cut short by society's insensitivity and misunderstanding, resurface with strong new discs. Rebounding from the disappointing Live At San Quentin, Charlie Manson returns with an electric set, and proves that the master psycho hasn't lost his touch. Reminiscing about Hank Williams, ruminating about Dixieland, or just plain ranting in his own special way, Charlie pulls out all the stops, like on this tune:
"How comes you won't let me back in
and lives what I earned,
I earned my way out of this goddamn can
I told you I didn't break your motherfuckin' wall
You goddamn fool,
1776, you think I'm gonna die for that again?
Fuck yooooou!"
Roxy Erickson, singer of the praises of demons, aliens, two-headed dogs, and zombies, is no stranger to the big house either. Erickson re-interprets his old work, including a version on "Starry Eyes" that enlists blues belter Lou Ann Barton, and cuts some fresh new tracks too. On "I'm gonna free her," Roxy spews lyrics as furiously as Charlie; yet it's his mellow side that wins out here.
If only the two had been left unmolested to do their music. Don't expect a tour in any case.
--Steve Aldrich
---

King
Belly

Sire

Belly whip out quite an impressive sophomore album with King. They could've taken the easy way out and written an album full of catchy tunes like "Feed The Tree" that were just quirky enough to be tagged "alternative." Happily, though, that is not the case here. The requisite amount of lyrical anguish makes these songs pithy fare to digest, especially on the track "Untitled and Unsung." While Belly's debut featured frivolous filler tunes here and there, King nails every track and is worth picking up.
--Tom Cornell
---
Made in the USA Soundtrack
Sonic Youth

Rhino

Back in '85, when Sonic Youth wasn't being claimed as everyone's biggest influence, they got the opportunity to do a Hollywood soundtrack for a hip road movie. Unfortunately, the band's musical vision didn't jibe too well with the film's evil producers, and the songs were axed on the final edit of the film.

Now we have the chance to hear the soundtrack in its entirety thanks to the folks at Rhino Records. Remixed with new song titles (e.g. "O.J.'s Glove Or What?"), the album is a slippery serpent that sounds both subdued and restless. Though the tunes are mostly instrumental and atmospheric, the album is great, and a must for hardcore Sonic Youth fans.
--Tom Cornell
---

Songs of Love and Hope
Leonard Cohen
Columbia (re-issue)
Long before he became the darling of AAA radio, Leonard Cohen created far meatier works, of which, this is the prime rib. All dressed in black, Songs Of Love And Hate strikes a serious goth pose with its eerie minor key tunes and enough lyrical angst to make Joy Division sound like Barney The Dinosaur. On one track, a tidal wave of strings overwhelms Cohen's bizarre Spanish guitar playing as Mr. Happy croaks "I fell into an avalanche, it covered up my soul." On other selections, a children's choir subtly joins in on the funeral fun. Many artists, such as Nick Cave, have been singing Cohen's praises since time immemorial, and with this release, we can finally understand why.
--Steve Aldrich
---

The Jet-Age Genius* of...
Goober & The Peas
Detroit Municipal Recordings
The folks up in Michigan have long been witnesses to Goober & The Peas'hillbilly charm. Their hay kickin' live shows are nothing less than legendary. Now with their second full-length CD out, the boys are hoping to garner the national attention they deserve. While their studio work comes nowhere near the kinetic frenzy of their live act, it will certainly put some punch in your collection.
--Brian Bruxvoort
---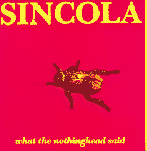 Sincola
What the Nothinghead Said
Caroline
Austin's Sincola, self-described as "evil pop," has a well-rounded, jittery sound. With 80s style vocals, frontwoman Rebecca Cannon pulls off the clichéd tough-and-bitchy routine without becoming annoying, and the rhythm section combines rock, punk, and pop to lend the songs a good variety of moods. The most interesting element is the guitar work of Wendel Stivers and Kris Patterson, sometime driving, other times meandering and warped. The first tracks ("Hint of the Titty" and "Bitch") are hard rockin' tunes, but the band does slide into some slower stuff later on the album. Overall, the album is a good release that isn't afraid of attitude.
--Joel Ward
---
Stage Diving to the Oldies
Various Artists Restless
Its scary to think that punk is already becoming fodder for oldies compilations, but nonetheless, Stage Diving to the Oldies contains the kind of classic Southern California punk that makes you want to set the neighbors' dog on fire. With cuts from such early 80s LA suburban bands as Circle Jerks, Agent Orange, and Fear, this album will take you back to the caustic days when MTV had attitude and parents were genuinely scared.
--Anton Crane
---
Bloody Kisses
Type O Negative
Oh dear. Urban death metal presented with sexual and satanic innuendoes-when will they give up? Type O Negative's latest release cheerfully dedicates itself to "all those who have loved unconditionally only to have their hearts unanesthetically ripped out." Bloody Kisses overflows with the gloom and doom, lightly comical, death songs which can only lead you to believe the bandmembers needed to be hugged more as children. Despite their bad boy wanna-be image, the band gleefully overplays far beyond anything Spinal Tap has ever attempted, even with the sequel. The back of their tape sends the poignant warning, "don't mistake lack of talent for genius."
MELVIN's advice on this one is "don't mistake Type O Negative for listenable music."
---

Ugly Americans
Ugly Americans
What Are Records?
Just when you found yourself cursing the way they just don't make music like they used to, Ugly Americans jumps onto the scene with a thick 70s sound. A heavy bass and C3 organ lay down authentic funk meddles that have as much soul as a bunch of dauntless white boys can produce. You'd swear this band had been jettisoned from the seventies with the Brady's if it weren't for the brief, lippy rap found on a couple of the tracks. An all around, the album is a hearty helping of freedom rock.
--Emma Johnson
---
Previous CD Reviews
---