---
MOUTHWASH
ACT CINNAMON ANTI-CAVITY MOUTHWASH
If your sweetie's on her way and your breath smells like aging cheese, a quick shot of Act's Cinnamon mouthwash will issue you a quick license to lick her tonsils clean. Its built-in shot capsule handily squeezes full of exactly the recommended jolt of fresh cinnamony rinse. Unlike most mouthwashes, which numb your taste buds with a faux minty sting, Act's subtle taste formula will leave you gulping flouride till your heart stops. It may be slightly more expensive than most brands, but with Act's cavity fighting formula, you'll be able to forever refuse your dentist's gum-wrenching flouride treatments.
---
FOOD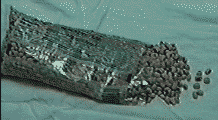 BLACKEYE PEAS
Blackeye peas are the most tasty pod vegetable under nature's generous vault. Whether roasted on an open fire, basted with a tangy sauce, baked with a Christmas ham, or simply eaten raw, blackeye peas always make for a delicious, high-protein meal. They are also rumored to bring good luck if eaten on New Year's Day. In fact, mamma used to make us eat a pound of blackeye peas every New Year! Then she'd sew us shut with fishin' twine, you know, down there. We'd have to hold 'em in for a whole week like that, but sometimes I'd ooze. That's when I knew for sure it was whoopin' time.
---
CONFECTIONS
WHIPPED CREAM IN A CAN
Whether crowning the glory of a birthday cake or embellishing your other's birthday suit, the plastic spout on Whipped Cream in a Can allows you to adorn even the most inaccessible nooks and crevices. Unlike Cool Whip, which needs to be unceremoniously spooned from its synthetic container, Whipped Cream in a Can gracefully pirouettes into a tantalizing dollop of fluffy delight, something you'll especially appreciate after hours of whiffing the can's nitrous oxide fumes. It also spews impressive distances with the touch of a finger, making it the ideal artillery for those whimsical, rainy-day food fights.
Melvin tip: Swirl a dab of Whipped Cream in a Can on your Bailey's Irish Coffee and drown out your winter sorrows by a toasty log fire (once you start earning a fixed income, that is).
---
BOOZE
CONCHO Y TORO
A generous splash of quality wine remains the most discrete method of penetrating your date's flimsy sexual inhibitions. And who knows how to move the butterflies from your stomach to your loins better than the lovesick French? Though harvested by exploitable Chilean farmers, Concho Y Toro is impeccibly French, bred exclusively from imported vines. This lends it two attractive features: it has all the sexy panache of a French wine, while remaining so six-pack cheap it won't outshine your carefully lathered Macaroni et Fromage. With a bottle of red priced at about six thin bucks, Concho Y Toro is both a frugal way to dazzle your date with culinary savvy and dependable insurance that your sanguine partner will wiggle all the way to your vibrating futon.
---
VEGETARIAN HANGOVER BREAKFASTS
CHILI MAN CHILI, TWO EGGS, TOAST
One of the many tribulations vegetarians endure is the sheer lack of palatable hangover food to fill a stomach hollowed out by long bouts of libation. Luckily, Chili Man stews a fine vegetarian chili that more than substitutes for the grim carnage of traditional remedy breakfasts. Combined with two jumbo fried eggs, generously lathered toast, and a voluminous cup of 2% milk, veggies can satiate their cholesterol needs and knock themselves flat for a Sunday afternoon coma. Sure, you'll fart like the pigs you spared, but you'll stomach your post-alcohol depression with a conscience clear of the fleshy lusts of weak-willed carnivores.
---
INTERNET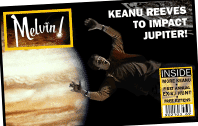 MELVIN MAGAZINE
Since its inception via a 1969 NSA directive that mandated the production a magazine "so zany yet so trenchant that not even the American public will withstand its imperative to take life less seriously," the makers of Melvin have strived to produce the most cutting social coverage since Homer's Illiad. After years of meticulous training, Melvin writers set forth, under the auspices of the NSA, to develop a medium of broadcast adequate to this epochal magazine. The Internet was born. With open-armed generosity, Melvin permitted other "users" to litter the Internet with their puerile ditherings while it put the finishing touches on its twenty-five-year-old masterpiece. Soon, every wretch with a computer and a mission statement (see Hotwired for an example) clogged the Internet pipelines with its uninspired drivel. But then, Melvin came. Within its first week, more than one billion people around the globe turned to the biweekly for everything from ineffable spiritual insight to gut-pinching laughter to exciting advertisements. You are one of these lemmings. Read on, fart face.
---