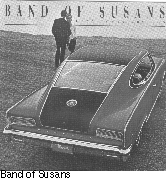 Restless
If you've ever had the misfortune of walking in on a loosely assembled jam session in someone's musty dorm room, you have a good idea what despair lurks within the ridges of this CD. Aside from the droning dissonance of the guitar, the utterly uncreative basslines, and drum parts that may just as well been programmed on your twenty dollar Casio keyboard, these songs are all about eight minutes long, making the album an endless descent into the most remote caverns of hell. The album should be a call to arms for all amateurs, because if this band got signed to a label (and a good one at that), any melon-eater with a kazoo should be able to.
--Matt Scholz

NoVo Records
Melvin Operatives ran into this windy city five piece when they played in Champaign, Illinois, and their new EP has been gyrating on our turntable dawn to dusk ever since. Boogie Shoes raps rhymes around thick funk grooves, weaving mellifluous trombone and slick guitar parts into the mix. In their live performances, they can turn the most white-bread fraternity boys into spasmatic Soul Train dancers. Their EP is available from NoVo Records (312-641-0400) and a CD release and plans for a European tour are incubating. Catch 'em now and you can impress your friends by snubbing the band when they become hugely successful.
--Matt Scholz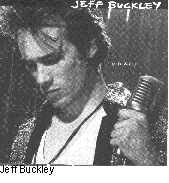 Columbia
You have to wonder about the masculinity of a guy whose voice is higher than your mother's, but nonetheless, the Jeff Buckley's Grace goes to show Morrissey that velvet-smooth voices can do something more than whine about how pathetic they look in boxer shorts. Buckley demonstrates far-flung virtuosity on this mellow album, and may have pulled off the only quality album that could make playlists on both light rock and alternative channels. The album isn't exactly a collection of happy songs, but then again, how many respectable artists dwell on their own happiness? If anything, Grace is a demonstration of honest integrity--which Buckley probably needed to get through high school phys ed.
--Anton Crane

Hot Records
Relying on layered, repetitive guitars, the Celibate Rifles pound out fourteen competent yet eminently forgettable tracks. Solos are delivered with the obligatory, tired motions of a highway flagman eagerly awaiting quitting time. Damien Lovelock's flat growls sound rushed, as if the band recorded, then remembered they needed to jot down hasty lyrics and dub in vocals. Lines like "It's coming apart" from the track "Seams" wouldn't tax the interpretive skills of a bored twelve year old. On the positive side, Nik Rieth's terse, energetic drums lend some zook to the album; too bad he wasn't given more reign.
--Dave Krugler

Zoo
Remember Clarence Clemons? He was the chubby guy that blew sax for Bruce "The Boss" Springsteen. Despite his questionable musical associations, Clemons has released a fine album in Peacemaker, which is a compilation of melodic jazz perfect for grooving out to. Backed up by trusty instrumentalists like Luis Conte and Dave Koz, Clemens toots smooth sax rhythms and brews them into a six pack of quality tracks. Clemens's fine-tuned Native American jazz inspiration is certainly a step up from the East Street Band. The album is dripping with freshness--like a little girl.
--Nick Hall

(Zoo/BMG)
Armed with a new singer and a syrupy dose of zydeco accordion, the aging members of Little Feat play Cajun-styled blues like they were your incredibly white suburban father-- simple, mathematically precise rhythms overlaid with lyrics invariably involving the word 'righteous.' Sure, the album is beautiful in its limited, Claptonesque way, and the crystal-clear production values promise an evening of hallucinogen-assisted fun, but in the end Ain't Had Enough Fun is about as authentic as a Hostess Twinkie. For raw, sloppy Cajun blues, stick to someone like Professor Longhair or Dr. John, both of whom know that a mistake is not just something to preserve in your gritty roots recording -- it's a way of life.
---
Click here to read The Real News.
---
Previous CD Reviews