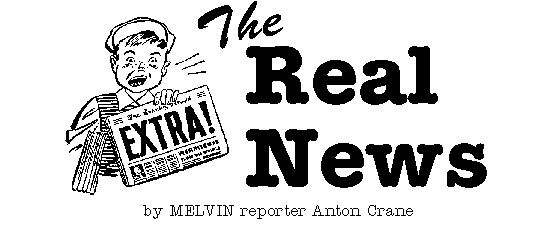 News Too Weird to Fabricate

Already accused of engaging in sexual intercourse with 16-year-old Beverly Heard when she was a campaign volunteer in 1992, U.S. Rep. Mel Reynolds has had his hands, and other parts, full. A second teen testifying to a grand jury said Reynolds had sex with her, offered financial compensation, and volunteered a way she could modify her sexual abuse story.
Senator and Foreign Relations Committee Chairman Jesse Helms (R-N.C.) made a minor diplomatic blunder when he introduced Prime Minister of Pakistan. Helms: "The Foreign Relations Committee has had the honor of welcoming the distinguished prime minister of India, and I wish to bring her to the floor."
Responding to a question on welfare reforms for unwed mothers, Gov. Whitman of New Jersey responded, "There's a game called 'Jewels in the Crown' that young black males have and it's how many children you can have out of wedlock. You can't legislate against that." She later apologized for the remark.

The school district in Northglenn, Colorado, is debating whether to install a provision banning teachers from having sex outside of marriage. The ACLU says it will sue if school officials approve of the measure. However, area parents are endorsing the clause.
School officials in Austin, Texas, charged Margaret Ann Dolsky, a substitute teacher, with public intoxication. Ms. Dolsky is said to have guzzled four cans of beer and puked, all in front of her Bedichek Middle School class.

Theresa Begin, 61, refused to bow to a robber threatening her barber shop in Winslow, Maine. Instead, she offered him a free haircut. William Peters, 35, has been charged with beating Begin over the head with a gun.
Ogden, Utah, is dealing with its teenage loiterers with a classic approach. The city began blasting Bach and Beethoven at a popular bus stop for the teens. However, the teens continue to gather.
Jail officials in Brooklyn Heights were probably impressed with the bulge in Brian Dawson's underwear until it wiggled out. The one and a half foot boa constrictor is now in the possession of Dawson's girlfriend. Dawson remains in jail.
Hubbard, Ohio, officials had 25 million gallons of water stolen from city pipes and can't find it.

Dr. Raymond Sattler, a neurosurgeon in Wilmington, North Carolina, must continue psychiatric evaluation after he left a patient's head open and exposed in order to break for lunch.
The Savannah River Site, a nuclear weapons complex near the Georgia border in Aiken, South Carolina, has recently given birth to a four legged screech owlet and two other baby owls with birth defects.
Elderly residents of Vermont are being coerced into joining the Navy. Recruiters got the wrong list from the state DMV, which was intended to ask for able-bodied 16 to 21 year olds.
The role of Elvis Presley in American culture will be the focus of a special conference at University of Mississippi at Oxford from August 6-11.
---