---


Where It Goes
Lori Carson
Restless
Whether you feel like mucking around in self-pity or just taking a comfy siesta, the sound of Lori Carson's muted vocal tones trolling over guitar and piano will succor your psyche like a warm bowl of cream of wheat. Carson has one of those distinctive, pretty voices that is sure to melt even the most iron-clad dj's, and every track on this album is a mental backrub. Now touring with The Golden Palominos, Carson may soon be monikered pop's next brooding starlet if she keeps on shamelessly bearing her soul to strangers.
--Matt Scholz
Click here to read an interview with Golden Palominos drummer Anton Fier.
---

My Brother The Cow
Mudhoney

Reprise
Mudhoney, the purveyors of Sub Pop grunge, are now on a fat corporate label, but the new album is still raw, sloppy, and without even a hint of polish. Opening with the blazing, warped guitar riff of "Judgment, Rage, Retribution and Thyme," vocalist Mark Arm and the boys prove they'll be around as long as cold toes in Alaska. Arm's lyrics are everything from witty to insightful. On the swampy, harmonica-infested track "Orange Ball-Peen Hammer," he even launches into an ambitious tirade against the entire state of Florida. My Brother The Cow is everything Mudhoney should be, and with this big Reprise deal, they deserve to be rich bastards by the year's end.
--Tom Cornell
---

The Letter U And The Numeral 2
Negativland

Seeland
In the summer of 1990, Negativland released a crack-up parody of U2's "I Still Haven't Found What I Am Looking For," that featured samples of the U2 recording and of Casey Kasem using a string of profanities to bitch out an "American Top Forty" underling. In the American spirit, Negativland got the shoes sued off of `em by Island Records, Casey Kasem, and even their own record label, SST, for sucking them into the whole mess.
Now, after five years of judicial wrangling, the band look back on the experience with this release, on their own Seeland label. Included is a 240-some page book filled with legal documents, faxes, and press clippings as well as a new Negativland epic recording that parodies their struggle. Negativland's trademarked random sampling and Mark Hesler's warbling vocals are a bit overwhelming at times, and the release is more like a comprehensive study of copyright law than an album, but the whole thing is pretty fascinating.
--Tom Cornell
---

Naveed
Our Lady Peace

Relativity
The album's cover, which has a pretty silly picture of an unkempt old guy stretched out like a telephone pole with birds perched on him, might give you the impression that Our Lady Peace has a vivacious sense of humor. However, the only thing that's funny about this album is what a flop it's going to be. The opening track on Naveed is "Birdman," a brooding track that has as much substance as any rock opera piece, and the same can be said about the rest of the material. Our Lady Peace are just gonna have to lighten up a bit before they're taken seriously.
--Tom Cornell
---

IX
Home

Relativity
Home creates music that sounds like a goofy power pop band that got sick of playing clubs and decided try out lo-fi music. They have some trouble combining their knack for pop melodies and their affinity for weirdness, but their off-key and slackhappy vocals do hit the mark at various points on IX. Much like a teenager, the disk is moody, but always a bit childish and playful (often excessively so).
--Joel Ward
---

Cheshire Cat
blink

Cargo/Grilled Cheese
Blink is yet another San Diego band that plays the mediocre melodic punk that kids are going loopy for these days. The album is produced by O, the tireless frontman from fluf, who is an ubiquitous musician filled with punk enthusiasm and an auspiciousness towards young bands. Without his production know-how this album probably would have been a disaster. And even as much as he helped "You can't polish a turd," as REM drummer Bill Berry is wont to say.
--Tom Cornell
---

Persona Non Grata
Urban Dance Squad

Virgin
It's been some time since we've heard from these hardcore hip-hoppers from the Netherlands. They're playing heavier than ever now, unwisely foresaking the soul and other eclectic influences that pulled them out of the turd-pile of bad hip-hop bands before. And Rudeboy's lyrics are sounding more and more contrived ("I gotta step to check your head like the Beastie Boys"). Yep, it sounds like they're jumping on the bandwagon they used to pull.
--Brian Bruxvoort
---
Sound As Ever
You Am I

Restless
You Am I wield one of the largest cocks in Australia's bulging new music scene. Sonic Youth everyman Lee Ranoldo produced the album and contributes some vocal, guitar, and keyboard stuff to it, but he's not just a pair of high heels for the band to stand tall on. Their music is authentic, with emotionally charged vocals over 70's power pop song structures. MELVIN approves.
--Brian Bruxvoort
---

Chill Out
John Lee Hooker

Pointblank Records
Cool as a beer in the fridge, John Lee couldn't have picked a better title than "Chill Out" for his latest disc. On the title track, he meanders down a mellow blues groove augmented by Carlos Santana's trademark guitar. Then he eases into 11 more tracks of classic Hooker material, including a duet with Van Morrison and a refurbished version of "One Bourbon, One Scotch, One Beer." There's not a turd on this album. It's mellow and smooth all the way through--the perfect lozenge for your aching soul.
--Brian Bruxvoort
---

American Skathic II Compilation CD

Jump Up

America was shocked when it realized an amazing coincidence. The release of this CD happened at the same time as the American Skathic II concert in Chicago... to the very day! Probably only ska fans banished to the dismal tundra between Minnesota and Kentucky will ever have the chance to see the 22 bands on this disc, but the slick production and swank grooves of this Midwest compilation make it worthy of its national distribution. Anyone who thinks that its not unusual to mix two-tone with plaid will be well pleased with this release.
--Nick Hall
---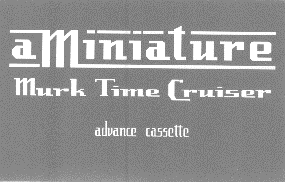 Murk Time Cruiser
a Miniature

Restless Records
Like to bang and slam to good music? Step over this turd.
--Emma Johnson
---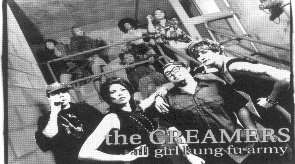 all girl kung fu army
The Creamers

Goofball Music
Emulating the B-52s, The Creamers' five-track ep, all girl kung fu army challenges any band to sound more like the B-52s than they do. Granted, they don't have Fred, or keyboards of any kind. But their swarmy, angry women music, laced with toxic guitar, is sure to drive all the people out of your apartment when you and your other want to be alone. Crank it up and you might get the neighbors down the hall to leave too. The lyrics are trite statements, and the disc is really best used as a Frisbee or a snack platter.
--Anton Crane
---

Smog
Wild Love

Drag City Productions
Much as the band's name might suggest, the tunes of Wild Love are mellow and dreamy. Some tracks, such as "The Emperor," will woo you back to the days of fantastical nursery rhymes, and others are simple in both lyrics and arrangement, mixing post-Platoon gloom and rabid silliness ("My best friend took a bullet through the eye. He used to have a patch, now he just has a glass eye....Sometimes he wishes he had two glass eyes."). The lyrics are Wild Love's greatest attraction, though they are sometimes ambiguously offensive. MELVIN's got nothing against the pedaphilia of "Sweet Small Children," but the sexism of "Be Hit" (Every girl I've ever loved has wanted to be hit...if you abuse them you'll never lose 'em.") definitely spills over the top. However, this one's worth a taste if you are looking for digestible music for a cloudy afternoon.
--Emma Johnson
---
Click here to read Melvin Recommends.
---
Previous CD Reviews