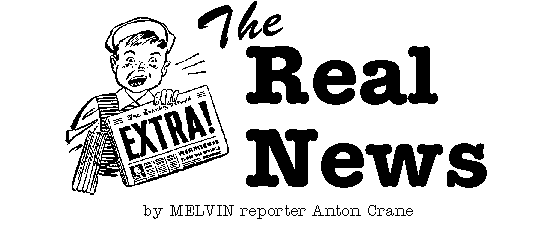 News Too Weird to Fabricate

A Carbondale, Illinois, couple asking a drive-thru teller to send their deposit back through the tube system may face charges. The couple tried to deposit a kitten via the tube.
Stating that the horse didn't have a chance, Faulkner County deputies arrested Thomas Burdass of Vilonia, Arkansas. Accused of teaching his horse to lead by tying it to his truck and dragging it down the road, Thomas Burdass also faces the problem of what to do with the dead beast.

Barry Lyn Stoller, formerly of Kent, Washington, is on the run from the authorities as well as Ex-Lax. Stoller requested a refund from Ex-Lax, stating the product didn't work. Ex-Lax, instead of issuing the check to the amount of $1.99, issued the check to the amount of $98,002, Stoller's zip code. Stoller, who cashed the check, left his apartment and left no forwarding address, is still at large.
McClellan Highway received more than $7,000 worth of unsolicited funding when money was found littering both sides of the East Boston highway. While officers were able to recover $7,070 in $100, $50, $20 and $10 bills, they have no idea how much was picked up by motorists passing through the greenback shower.

Instead of painting the warden's house for a work assignment, minimum security inmate Jeffrey Sawyer saw an opportunity and walked out of the Boydton, Virginia, town. He remains at large.
Velda City, Missouri, has 13,000 pieces of confiscated mail in one the town's basements. Postal officials are looking for the letter carrier who hid the mail there, dated from March 1993 to last month.

Berkeley, California, motorists received a booster shot of friendliness when Joseph Charles, a.k.a. the "Waving Man," kicked off his 85th birthday by waving to them during rush hour. Charles has waved to motorists roadside from 1962 to 1992.

Michael Lee, 29, shot his brother in the ear while arguing with his brother in Durango, Colorado. The argument was over the family Bible.

A team of scientists from the Dept. of Energy recently backed the idea that nuclear wastes buried deep underground might erupt in an atomic explosion.

Watch for Rush Lipbalm, developed by Charlie and Kim Vachiano of Portland, Maine, in your favorite store. The product's label reads, "relieves sore, dry chapped lips caused by your own hot air! Apply liberally."

Click here for Film Buff.
---
---