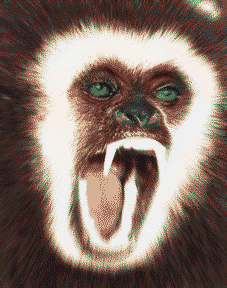 Outbreak is the tender story of a hapless monkey who is shipped from Africa on a cargo vessel. Through the course of the film, the monkey meets many friends, including a man who saves her from animal testing and a little girl who names her Betsy and feeds her apples in the forest. At the end of the film, Betsy is shot by a random military officer who needs her blood for a vaccine. There is also some story about a killer virus, but it was too stupid to pay attention to.
Amazing Movie Chain: Monkey--Raiders of the Lost Ark--Harrison Ford--STAR WARS--Obi Wan Kenobi


Jennifer Jason Leigh's increasing prominence in film thankfully counterbalances the unconscionable success of Julia "goody-two-shoes" Roberts. And while Roberts continues her steady descent into panoramic ilk, Leigh continues playing the kind of complex, tattered characters you'd like to suck a few down with, this time playing the embittered poet Dorothy Parker. Her tight renderings of Parker's life submerge the audience in the deepest, darkest waters of the poet's alcohol-drenched psyche.
The film explores the emotional toll of maintaining a refreshing, public face in spite of a life mired in weepy-eyed tragedy. Despite the overall bitter flavor of the film, it pulls off remarkable emotional swings, with some moments that'll make you chortle like a cow tipper. Just like MELVIN.
Amazing Movie Chain: Jennifer Jason Leigh--Poetic Justice--Lloyd Avery II--Boyz N the Hood--Angela Basset--Kindergarten Cop--Arnold Swartzenegger--True Lies--Jamie Lee Curtis--Queen's Logic--Kevin Bacon--A Few Good Men--Jack Nicholson--You Figure It Out--STAR WARS--Obi Wan Kenobi


In accordance with the lavish costuming, elaborate setting, and dry British humor of most English period pieces, The Madness of King George is as fun as a wet blanket. The film recounts the story of King George III of England who, while suffering from a temporary illness that invokes bouts with insanity, acts like a buffoon. Although eliciting raised eyebrows from prudish Europeans and ridiculing ludicrous 18th century medical practices will sometimes tickle a snicker out of you, the humor is largely aimed at smarty-pants types who define entertainment as being able to laugh at all the appropriate moments of a movie. To the rest of us, satisfied with inferior American educations and B-grade action flicks, The Madness of King George doesn't warrant the seven clams. Long live slap stick, explosions, unnecessary sex and, yes, long live America!
Amazing Movie Chain: Rupert Graves--Damaged--Jeremy Irons--Lion King--James Earl Jones--STAR WARS--Obi Wan Kenobi
---