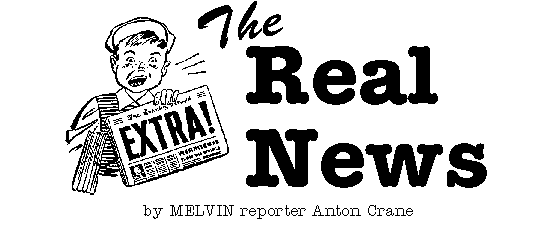 News Too Weird to Make Up

Five major Jewish groups forced an agreement with the Mormon church to stop the latters' baptisms for post-mortem Holocaust victims.
Since the U.S.started installing tiny electronic sensors to detect illegal immigrants trying to jump the border into Campo, California, the sensors have also been tracking the regular day to day movements of the Mills family, whose 28 acre-ranch is located about 30 feet away from the Mexican border. According to the Mills, border patrol agents regularly harass,stop and search the family.
Kenneth Saasta, a Santa Clara jail inmate arrested on drug possession charges, forced his own release because he couldn't sleep on a jail bed, couldn't eat in the dining hall, and the prison clothes wouldn't fit him. He also weighed in at 600 pounds.

After being put in a Middlesex Borough, NewJersey, jail for failing to shovel his walk after a February snowstorm, Joseph Verebly, on crutches, said, "I just cant shovel myself, and Im not paying some kid $25 to do it. I pay a lot of taxes to the city; let them shovel." Verebly, 81, spent two days in jail for violating the citys snow ordinance.
A spin-off of the movie It Could Happen to You happened in Downsville, Louisiana, when Joe Rivera, a trucker from Orlando, Florida, claimed to have left a handful of lottery tickets with Terry Amendolia. Although Amendolia claims she doesnt know Rivera, hes suing her for half of the $5 million jackpot she just won.
The attorney of Varnell Weeks, a 42-year-old convict on death row in Mobile, Alabama, claims his client believes hes God, and thinks hell come back as a tortoise if hes executed on schedule.
Gordon Appel wanted to test the reporting accuracy of Denvers KUSA-TV on a recent story of how easy it is to commit voter fraud. After receiving two ballots for the citys recent election, he told the officials about their error, so they charged him with voter fraud.

NASA scientists recently reported that when spiders are spinning their webs and are given:
marijuana--

the spiders forget what theyre doing about half-way through

caffeine--

they cant spin anything resembling a web

speed--

spin their web with great gusto but without much forethought

chloral hydrate--

drop off before they even get started
A giant mass of alcohol big enough to make 400 trillion trillion pints of beer has been detected in an interstellar cloud about 10,000 light years away near the constellation Aquilla. The cloud is also a site of new star formation. According to scientists, it seems the ethanol molecule is found in relatively high concentrations in regions where stars are forming.

Observing only the fact that the Teresa Johnson household in Hartford, Connecticut, owed over $8000 in past-due power bills, Connecticut Light and Power decided to just cut their power. Unfortunately, Johnsons invalid son, Artemis, was on life support systems when they did it (Hes still alive, although Johnson found him gasping and blue). CL & P is currently reviewing their policy on cutting power.
A Toledo, Ohio, study found that one out of every eight Toledo city high school students missed at least 50 days of class last year.
According to a Cosmopolitan survey taken for its premiere issue in Russia, over 50 percent of Russian women regularly cheat on their husbands, and of those only 42 percent feel guilty about it.
---